Three years ago, when the Leap Ambassadors Community released the first version of the Performance Imperative (PI), the ambassadors made it clear that they would practice what they preach about learning and improvement by collecting feedback and eventually producing a version 2.0:
This first public release is not a fait accompli. We will be making periodic updates to refine, adapt, and elaborate on what you see here. We want to improve our work—consistent with the PI itself—with input from leaders with different views and experiences. Indeed, we are eager for your feedback.
The ambassadors have followed through on that commitment. At the beginning of this month, they released a new, improved version of the PI.
Given how much the community has grown over the past three years, the new PI benefited from the insights and constructive pushback of far more leaders than did the original version. Rather than watering the PI down, the collaborative-development process lifted it up.
The original was a strong and useful document, inspiring nonprofit leaders to report sentiments like "it could not articulate my aspirations any more clearly. It's as if you dug into my 3 am brain … when I am up trying to figure out how to get from here to there."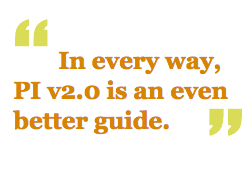 In every way, PI v2.0 is an even better guide. We hope the nearly 40,000 of you who downloaded the old version will take 30 seconds to ring in the new.
The core of the PI hasn't changed. Most important, the definition of "high-performance organization" and the seven pillars of high performance (the organizational disciplines that lead to high performance) remain the same. These foundational elements stood strong after three years of pressure testing.
But within the seven pillars, the ambassadors added 14 new principles (the specific ways high-performance organizations actualize the pillars) and amended 14 others. The changes fill important gaps that the ambassadors discovered over three years of listening and learning. The changes focus on the importance of constituent feedback, diversity/inclusion, empathy, and advocacy.
For example, in Pillar 1 ("Courageous and Adaptive Executive and Board Leadership") the ambassadors added these principles:
"Executives and boards cultivate diversity and inclusion at every level of the organization, because a wide array of backgrounds, experiences, and perspectives contribute to an organization's creativity, empathy, and effectiveness."
"Executives and boards listen and respond to the needs of the people they serve (i.e., their primary constituents). This means systematically collecting, synthesizing, and using constituent feedback to inform decision-making."
"Executives and boards cultivate trust-based relationships with key policymakers. They keep policymakers informed about their work; advocate for policies and funding that can benefit constituents; and advocate against proposals that could adversely affect constituents."
The rollout of the new version is off to a great start. More than 1,500 people have viewed it since the April 4 launch.
We can't end this post without expressing our gratitude to the Leap Ambassadors Community and all of the individuals who participated in the yearlong process of improving the PI. We're not aware of any other definitional document in our field that has benefited from such a diversity of voices and perspectives.

Keep the faith (and reason),


Mario and Lowell
---
Updates From Around the Leap Community
We recommend Tim Delaney's post "Advocating for Racial Equity: The Long Journey Continues," on the Center for Effective Philanthropy's blog. Delaney, the president and CEO of the National Council of Nonprofits (and an important intellectual contributor to the new PI), highlights startling new data about the dire prospects for African-American boys: "Ninety-nine percent of black boys fare worse economically as adults than white boys, even when they grew up next to each other with parents who earn similar incomes." Delaney coaches nonprofits on how to translate and frame data like these into effective advocacy campaigns for leveling the playing field.
Kevin Starr, the managing director of the Mulago Foundation and the subject of a recent Leap Ambassadors Community Funding Performance profile, plays skunk at the party once again in his latest SSIR post, "Enough Innovation Already!" Starr, whose foundation does a great job of helping grantees design their innovations to reach a million or more people, persuasively argues that "innovation without replication is a waste of time." We appreciated Starr's acknowledgment that high-fidelity replication is hard, and the tiny details matter. In our experience, funders, boards, and executives—in both the nonprofit and private sectors—pay far too little attention to what it takes to replicate well. And poor replication is a formula for poor outcomes—or even harm.
While we're thinking about Mulago and ways of achieving transformative scale, we want to give a shout-out to two of the foundation's outstanding grantees: Last Mile Health and One Acre Fund. Both organizations just learned that they are part of The Audacious Project's first portfolio. The Audacious Project represents a new model for funding "big bets." Using the TED platform and funding from Richard Branson, Jeff Skoll, Ray Dalio, Bill and Melinda Gates, and others, The Audacious Project is almost two-thirds of the way toward its goal of raising $634 million to supercharge seven world-changing ideas. Last Mile Health and One Acre Fund got a big financial and intellectual boost from Mulago. The Audacious Project could launch these organizations to a whole new level.
Leap Ambassador Brad Phillips and his colleague Jordan E. Horowitz have published a valuable new book for anyone focused on community colleges, indispensable institutions for social mobility. In Creating a Data-Informed Culture in Community Colleges: A New Model for Educators, Phillips and Horowitz draw upon psychology, neuroscience, and behavioral economics to show how administrators can build good habits for engaging with data—for the ultimate end of helping students succeed in school and graduate on time. We believe the techniques are just as applicable for direct-service organizations.
Events/Webinars for Raising Performance
Apr 30-May 2 — San Francisco
"2018 National Conference
Grantmakers for Effective Organizations
May 21-22 — Stanford, CA
"Frontiers of Social Innovation" conference
SSIR
May 22 — London, UK
"Building a measurement framework: An introduction for charities" workshop
New Philanthropy Capital
May 22-24 — Detroit, MI
"Good Tech Fest" conference
Data Analysts for Social Good
June 14 — London, UK
"Building a measurement framework: An introduction for funders" workshop
New Philanthropy Capital
Oct 4-5 — Washington, DC
"Fourth Annual Feedback Summit"
Feedback Labs