During the Jewish High Holidays, Lowell's rabbi implored his congregation to spend less time with eyes fixed on our algorithmically narrowed news feeds and more time looking for new perspectives. In response, Lowell picked up Winners Take All: The Elite Charade of Changing the World, a book that was likely to challenge key beliefs that he and Mario hold about social change.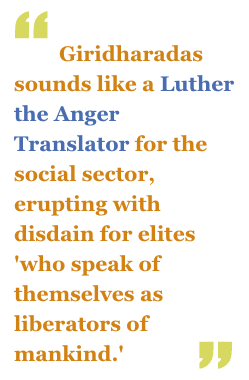 The book didn't disappoint. The author, former New York Times columnist Anand Giridharadas, paints with a broad brush and maybe only one or two of the 50 shades of gray. But he has produced a provocative picture that will generate many uncomfortable, unquestionably important conversations in our sector and beyond.
It's hard to do full justice to Giridharadas's 270-page argument in a quick summary, but here's an ol' college try: Most social-change efforts led and supported by elite American business leaders and philanthropists aren't resulting in real social change. In fact, they're undermining social change, because they're sustaining, rather than addressing, our country's radically unequal status quo. As Giridharadas puts it, "When elites assume leadership of social change, they are able to reshape what social change is—above all, to present it as something that [should not] change the underlying economic system that has allowed the winners to win and fostered many of the problems they seek to solve." In other words, those of us in the social-change business may claim our philanthropic efforts are addressing "root causes," but ultimately we're not—unless we're among those who are brave enough to advocate for fundamental changes in the way our economy and society operate.
Giridharadas believes Darren Walker, president of the Ford Foundation, is one of the very few philanthropic leaders who can summon this kind of courage. In his writings—if not always in his speeches to elite audiences—Walker has broken these sacred taboos: "Inspire the rich to do more good, but never, ever tell them to do less harm; inspire them to give back, but never, ever tell them to take less; inspire them to join the solution, but never, ever accuse them of being part of the problem," in the words of Giridharadas. The rest of us—including donors, philanthropoids, and social-change consultants—get skewered in this book. At times, Giridharadas sounds like a Luther the Anger Translator for the social sector, erupting with disdain for elites "who speak of themselves as liberators of mankind" but are in fact doing everything in their considerable power to "sustain an indefensible distribution of influence, resources, and tools." This book isn't tough love. It's a gut punch.
It's tempting to nitpick elements of Giridharadas's thesis that don't jibe with our experiences. But that would be, to use one of Mario's favorite expressions, "majoring on minors." Instead, we want to wrestle with this book and let it prompt real introspection. Our sentiments echo those of our colleague Mark Kramer, who wrote in SSIR, "From my perspective, it is a … sobering experience to read this book, and it imparts new insights into the limitations and compromises inherent in the way I and many of my friends and colleagues have chosen to work for social progress."
Needless to say, it's not a good feeling to get punched in the gut. But in this case, that feeling is prompting introspective questions rather than anger or fear. And that's the perfect zone for learning how we can improve our own performance.

Keep the faith (and reason),


Mario and Lowell
---
Mario Morino is chairman of the Morino Institute, co-founder and founding chair of Venture Philanthropy Partners, and author of the lead essay in Leap of Reason. Lowell Weiss is president of Cascade Philanthropy Advisors, co-editor of Leap of Reason, and advisor to the Leap of Reason initiative.

---
Updates From Around the Leap Community
---
Events/Webinars for Raising Performance
Oct 4-5 — Washington, DC
Fourth Annual Feedback Summit; Feedback Labs
Oct 10-12 — Hartford, CT
"Re-envisioning our Field: Advancing Racial Equity and Leading Innovation in Capacity Building" conference; Alliance for Nonprofit Management
Oct 29-Nov 3 — Cleveland, OH
"Evaluation 2018"; American Evaluation Association's (AEA) annual conference
Nov 14-16 — Los Angeles, CA
"Upswell 2018" annual conference; Independent Sector
Nov 15-17 — Austin, TX
"From Relief to Resilience: How Philanthropy, Nonprofits and Volunteers Bridge the Gap Between Crisis and Sustainability" conference; ARNOVA