A Passionate, Personal Drive for Performance
When reading the Chronicle of Philanthropy's May 1 feature story on the Leap Ambassadors Community, we got a kick out of a quotation by our friend Brad Dudding, the brilliant COO of the Center for Employment Opportunities. Perhaps channeling Mario, Dudding pulled off a rare triple mixed metaphor when explaining one of the community's key aims: "Right now there's a big push … to hammer away at funders and get them on the bus."
We'll add yet another metaphor here: the spotlight. That's what the Leap Ambassadors will be using next month when they release their latest in a series of profiles of positive-outlier funders doing a great job of supporting their grantees' performance. The newest profile will highlight the engaged philanthropic work of Duncan Campbell, a 73-year-old former timber investor who has dedicated significant time, treasure, and talent to improve the life prospects of thousands of children.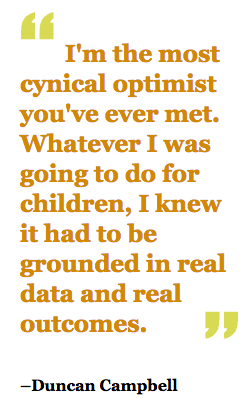 Lowell had a chance to meet with Duncan last month in Portland, Oregon, at the national headquarters of Friends of the Children (FOTC), the highly professionalized mentoring program he launched 25 years ago with child psychologist Orin Bolstad. Lowell's conversation with Duncan ranged far and wide—from FOTC's performance-management system to the childhood experiences that fired Duncan's passion for helping disadvantaged kids build resilience.
When Duncan—"no one calls me Mr. Campbell"—was three years old, he woke up in the middle of the night and couldn't find his parents anywhere. So, fighting back tears, "I put on my pants inside out and started walking the streets all alone looking for them." Eventually a police officer led him into a neighborhood bar. His parents were there, blithely drinking themselves into oblivion. A few years later, a stranger his parents dragged home from a bar fell asleep with a lit cigarette in Duncan's bedroom. Duncan awoke when the stranger's mattress was engulfed in flames. "I survived only because a passing cab driver saw the house on fire, smashed my window, and pulled me out."
With the support of a few caring adults in his life and many part-time jobs (dishwasher, gas pump attendant, rental car clerk, child advocate), Duncan managed to put himself through college and law school. After a stint at Arthur Andersen, which had most of the major forest-products companies as clients, Duncan founded Campbell Global, one of the first timber investment firms in the world. He scraped by with small deals for years, but a key strategic partnership eventually gave Campbell Global entrée to large institutional investors. The man whose parents could barely afford their drinking habit became wealthy beyond his wildest imagination or aspiration.
Unlike those who create wealth and then search for a cause, Duncan knew exactly what he wanted to do with his new resources: make a meaningful, measurable difference for children growing up in circumstances like his own. "I'm the most cynical optimist you've ever met. Given my childhood, everything starts with reality for me. Whatever I was going to do for children, I knew it had to be grounded in real data and real outcomes."
Thanks to Duncan's unwavering support and the courageous, adaptive leadership of FOTC President (and Leap Ambassador) Terri Sorensen, FOTC is pursuing real data and outcomes with a passion. In 2016, FOTC was honored by Social Solutions for the way it has used the company's ETO performance-management system to make "a meaningful impact on their constituents." It conducts third-party outcome evaluations every year, which show that 83 percent of participants graduate from high school, 93 percent stay out of the juvenile justice system, and 98 percent avoid early parenting—all dramatically higher than similar kids who didn't participate in FOTC. And it is currently conducting a longitudinal randomized controlled trial. While the early results are inconclusive, Bolstad is optimistic about FOTC's impact. "We're constantly making improvements," he said. "We have a great team of tinkerers … who never give up. Duncan is the model for that tinkering."
We'll give you a heads up next month when the profile is ready for prime time. We think it's a great case study in how individual donors can use their passion to fuel grantee performance as well as a personal sense of meaning, purpose, and joy.

Keep the faith (and reason),


Mario and Lowell
---
Updates From Around the Leap Community
It's with great sadness that we note the recent passing of businessman and social entrepreneur Bob Buford, an inspiration both to Mario and Duncan Campbell. When Buford's close friend Peter Drucker passed away in 2005, Buford wrote that Drucker "taught us to not cry against the darkness but to 'build on islands of health and strength,' to discover and rely on the 'healing fountains of the heart.'" The same is true of Buford himself. Through his faith-based teachings and writings, he inspired thousands of entrepreneurs to make the transition "from financial success to life significance."
The Leap Ambassadors Community has just updated the PI Organizational Self-Assessment (PIOSA) to make it much easier for nonprofits to use as a roadmap on their journey to high performance. The repositioned PIOSA provides a structured approach to better support self-assessment, reflection, and organizational improvement. Its new modular format makes it easier to bite off just one or two meaty topics at a time. It also now includes an app that automatically compiles feedback from all respondents into one report. A big thank you to our colleague Ingvild Bjornvold for her great work to make the PIOSA more accessible!
We love the Laura and John Arnold Foundation's Straight Talk on Evidence series—never more so than when we see an organization earn that tough-minded team's seal of approval. If you love positive results as much as we do—and care deeply about improving education for low-income kids—enjoy "KIPP charter schools—strong, replicated evidence of sizeable effects on student achievement." KIPP, which started its first schools in Houston and New York City in 1995 with major funding from the co-founders of Gap, has grown into a mature network of 209 public charter schools all over the country. Its rigorous RCTs show that its elementary and middle schools are producing sizable, statistically significant effects on both reading and math achievement.
In 2011, Mario wrote in Leap of Reason, "Public funders—and eventually private funders as well—will migrate away from organizations with stirring stories alone, toward well-managed organizations that can also demonstrate meaningful, lasting impact." That notion is embedded in Slate's new series called "The Slate 90." After casting scrutiny on the largest charities in nine different social-sector domains, Slate left readers with this multi-billion-dollar question: "Some of these organizations are good and worthy; others aren't…. Collectively, they represent a massive pot of uncollected taxes that, ultimately, need to be made up by the rest of us. Is that a bargain worth making?"
Events/Webinars for Raising Performance
May 30 — Online
"Census 2020: What Nonprofits, Local Governments, and Funders Need to Know" webinar
SSIR
June 6 — Online
"The Leadership Development Deficit" webinar
SSIR
June 6 — Online
"Small, But Mighty: Seven Ways Small Nonprofits Can Boost Their Performance" webinar
GuideStar and Leap Ambassadors Community
June 14 — London, UK
"Building a measurement framework: An introduction for funders" workshop
New Philanthropy Capital
Oct 4-5 — Washington, DC
"Fourth Annual Feedback Summit"
Feedback Labs