A True Profile in Courage
Our post last month on gratitude struck a resonant chord with many of you. So we want to end this year by talking about a related virtue: courage.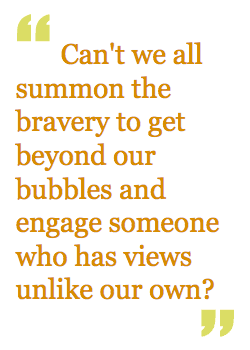 The kind of courage we often read and talk about is physical—like Lowell's father-in-law's heroic combat on the frozen slopes of Monte Belvedere to liberate Italy from the Nazis or Mario's uncles' and cousins' descent deep into the coal mines of western Pennsylvania every day to support their families. But if you're like us and find moral courage just as inspiring as the physical kind, please consider reading Rising Out of Hatred, by Washington Post reporter Eli Saslow. It was the best book—out of many great ones—we read in 2018. It's a gripping, nuanced story of how a young man named Derek Black found the courage to renounce white nationalism—even though that meant losing contact with his family and putting himself in the line of fire for violent extremists.
Derek wasn't just any white nationalist. His father, Don, is a former KKK grand wizard and the founder of Stormfront.org, the first and one of the largest hate sites in the world. His godfather is none other than David Duke. His mother is Duke's ex-wife, Chloe. When he was just 11, Derek wrote the HTML code to create a site for "proud white children" on Stormfront. While still a teenager, he created a 24-hour radio network and won a local political office in Palm Beach County. It's not hyperbole to say that Derek was the prince and future king of the white nationalist movement—at precisely the time it was exploding into the mainstream.
Derek's consciousness began to shift and his empathy began to grow after he transferred from community college to New College of Florida, a rigorous liberal arts school. For the first time, he had an opportunity to interact with students of color, immigrants, and Jews—the types of people he had known only through stereotypes when he was homeschooled in hate. Derek kept a low profile on campus, but a student found an article in Details magazine entitled "Derek Black: The Future of White Power" and outed Derek to the entire student body. Students shut down the school to push for his expulsion.
A small group of students were brave enough to try to engage Derek rather than shun or threaten him. Improbably, an Orthodox Jew named Matthew Stevenson texted him an invitation to his baked-salmon Shabbat dinner—and Derek had the courage and intellectual curiosity to come, not just once but weekly. Allison Gornik, a progressive student from the Cleveland area who had regularly attended those dinners, decided not to go after Matthew invited Derek. But she eventually decided to go back. When she started talking to Derek, she saw that he wasn't the monster she imagined. In Shabbat conversations and late-night messages, she worked to debunk Derek's racial myths in a way that would resonate with his rational, scholarly mind.
Over three years of listening with an open mind to his new friends and engaging in an intense course of self-directed learning about race and history, Derek changed his thinking 180 degrees. That alone would have been rare and remarkable. But with a lot of prodding from Allison, who became Derek's closest friend and later his girlfriend, he publicly apologized and explained his change of beliefs: "It's important to point out that the so-called activists who never spoke to me personally but chose to denounce me publicly, intimidate my friends, or otherwise try to peer pressure [me] did not have a positive impact," he wrote in the Daily Beast. "The people who were important in the process of changing my mind were those who were my friends …. who let me know … they thought my beliefs were wrong for specific reasons and took the time to provide evidence and civil arguments."
At a time of surging racism and anti-Semitism, we know that hate has viral force. We believe that courage, too, can be contagious. Few people have the courage Derek showed—reassessing his core beliefs and putting a target on his own back. But can't we all summon the bravery to engage someone who has views unlike our own? Matthew's father counseled his son, "Reach out and extend the hand, no matter who's waiting on the other side." What a great New Year's resolution for all of us!

Keep the faith (and reason),


Mario and Lowell
---
Mario Morino is chairman of the Morino Institute, co-founder and founding chair of Venture Philanthropy Partners, and author of the lead essay in Leap of Reason. Lowell Weiss is president of Cascade Philanthropy Advisors, co-editor of Leap of Reason, and advisor to the Leap of Reason initiative.

---
Updates From Around the Leap Community
We recommend Fay Twersky's latest SSIR contribution, "Time for a Three-Legged Measurement Stool." Fay, one of our favorite thinkers in philanthropy, suggests monitoring and evaluation have been missing an important component: systematic feedback from the people we are seeking to help. In a related note, Fay and her colleagues at the Hewlett Foundation recently updated their effective-philanthropy resource page and published this story about some of the ways they have been listening, learning, and responding to community voices.
Brad Dudding and Chris Watler of the high-performance Center for Employment Opportunities (CEO) share practical insights on the same topic in their SSIR article "Building Organizational Muscle and Mindset to Gather Participant Feedback." Brad and Chris describe CEO's new Talk to Us platform, which has proven to be an easy way to learn from program participants about the quality of the programs, their engagement with the programs, and how CEO is helping them (or not) achieve their goals. Integrating Talk to Us into the culture of the organization has had two huge benefits: helping to improve programming and sending a powerful signal to participants that their voices matter. "Feedback not only improves; it empowers, helping to create a culture of equity and inclusion that ultimately promotes a more just world."
We were glad to see that the obsession with nonprofit overhead got attention outside the usual circles on Giving Tuesday. Vox, an online publication started by Washington Post alum Ezra Klein, published "One of the most frequently used criteria for judging a charity is also one of the worst." "The focus on overhead has come at a great cost to the charity world," writes reporter Kelsey Piper. "On the whole, it's a pretty bad way of approaching the question we really care about—whether a charity is doing any good."
We also liked Kelsey Piper's Vox article "A charity just admitted that its program wasn't working. That's a big deal." The charity in question, Evidence in Action, acknowledged that a randomized controlled trial of a program it funded to help Bangladeshi farmers "did not have the desired impact on inducing migration, and consequently did not increase income or consumption." Instead of abandoning the program, Evidence Action is using the evidence it gathered to make program improvements—exactly the right response.
Speaking of good use of evidence, congratulations to Mari Kuraishi, the outgoing CEO of GlobalGiving who will soon take over as president of the Jessie Ball duPont Fund, and her colleagues. As Caroline Fiennes shared in the Financial Times, GlobalGiving is one of those rare funders assessing its performance and then sharing those results with the world. Fiennes suggests that all funders should follow GlobalGiving's lead. "Ideally a funder would take the set of nonprofits which qualify for its support (such as the applicants that pass its screening), divide them randomly into a group which receives the support and a group which goes without, and compare the performance of the two groups." We'd love to see that happen in the new year!
---
Events/Webinars for Raising Performance
Feb 5 — Online
"Foundation Governance: Trends, Practices, and Challenges in Grantmaking Governance" webinar; BoardSource
Feb 19-20 — Stanford, CA
"Data on Purpose" conference; SSIR
May 7-9 — Minneapolis-St. Paul
"Stronger Philanthropy" conference; Center for Effective Philanthropy
June 25-28 — Los Angeles
"Skid Row School for Large-Scale Social Change"; Billions Institute