On July 4th, Lowell and his family participated in one of their favorite annual rituals: attending a naturalization ceremony at the foot of the Space Needle and welcoming America's newest citizens. The ceremony featured more than 500 new Americans and roughly three times as many cheering onlookers, many of them wearing red, white, and blue or holding welcoming signs. Lowell's sign read, "Congratulations and thank you for keeping faith in America."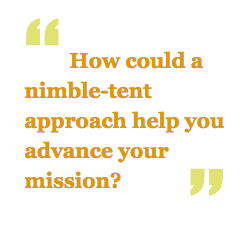 In light of the passionate debates over immigration, we both took great interest in the recent Wired article "ICE is Everywhere: Using Library Science to Map the Separation Crisis," about a group of citizens who came together quickly to leverage their coding, mapping, and data-analysis skills to help immigrant families and their advocates. The article highlights an absolutely fascinating process that tech-savvy groups of concerned citizens could use to get deeply engaged in the causes that matter to them.
The Wired story starts with two friends and colleagues at Columbia University: Alex Gil, a digital librarian, and Manan Ahmed, an historian. Using free tools like Telegram Messenger, the two enlisted the help of "digital ninjas"—professional and amateur researchers from across the country—to locate and document all of the detention centers and community facilities where separated children might be held. Within a week, the team uncovered troves of publicly available information and posted it all on a website they named Torn Apart/Separados.
The article makes a compelling case that the Torn Apart website is not only proving to be an invaluable resource for families today but also has important historical value. "No one is documenting what is happening in everyday life of migrants," in the words of website contributor Sylvia Fernandez, a graduate student at the University of Houston. "This is a digital historical record."
Whether or not you're as passionate as we are about this particular issue, we encourage you to visit the Torn Apart website to learn about what Gil calls the "nimble tent"—mass mobilizations of good will and good skill at a time of crisis—and its potential applications. How could this nimble-tent approach help you advance the mission that animates your day job? How could your day-job skills help you advance causes you address during your evenings and weekends? For instance, we wonder if this approach could be used to map the movements of women and children trapped in commercial sex traffic, track how emerging technologies are impacting the geographic mobility of low-income workers, and better target support during humanitarian crises.
Now is not a time for passivity. It's a time for us to use our voices and our skills to play an engaged, empowered role in our messy democracy.

Keep the faith (and reason),


Mario and Lowell
---
Updates From Around the Leap Community
Today, the Leap Ambassadors Community is releasing "Meaning, Purpose, and Joy: A Profile of Duncan Campbell," the latest installment in a series highlighting funders helping their grantees pursue high performance. It's the story of Campbell's journey from severe neglect as a child to surprise wealth as an entrepreneur to life significance as a philanthropist. We hope you'll download the profile and share it with funders in your networks.
On June 6, the Leap Ambassadors Community teamed up with GuideStar to host the webinar "Small, But Mighty: Seven Ways Small Nonprofits Can Boost Their Performance." If you missed it, you can now download the recording. Kudos to Leap Ambassador Debra Natenshon, as well as SHALVA's Carol Ruderman and Sara Block, who did a great job illustrating the ways in which the core concepts from the Performance Imperative are relevant for community-based organizations with budgets between $100,000 and $3 million (almost 90 percent of the nonprofit sector). Kudos also to Leap Ambassador Adrian Bordone, the webinar's host, who might want to consider becoming a broadcaster in his next career!
The Laura and John Arnold Foundation's latest report, "When Congressionally authorized federal programs are evaluated in randomized controlled trials, most fall short. Reform is needed," is a must-read for anyone who cares about improving government-funded social services. The report makes a compelling case that "in a world where most attempts to make progress fail and a few succeed, spending as usual without a clear focus on evidence about what works is unlikely to solve the nation's problems." The report reinforces the key message of a 2013 Atlantic Monthly article by Republican John Bridgeland and Democrat Peter Orszag: Governments must learn how to play "Moneyball"—that is, use evidence and use it wisely—when they allocate taxpayer dollars for social programs.
If you're like us and live in a city in the midst of a homelessness crisis, please read David Bornstein's encouraging New York Times blog post "A Growing Drive to Get Homelessness to Zero." Bornstein documented that humane and inspiring civic leaders armed with great data are reducing homelessness in 46 communities across the country. The 46 communities "are collecting and maintaining real-time data and lists of the names of people experiencing homelessness, and from those deepening their understanding of the dynamics of a complex and ever-changing problem," Bornstein wrote. "And they are linking in a national network, capturing and sharing effective strategies, as they emerge, to improve their performance."
We're excited to share a bundle of good news from the high-performance nonprofit Playworks, which has been working for 22 years to enrich kids' recess experience with social and emotional learning (SEL). First, the RAND Corporation found that the Playworks Coach service meets the highest bar for evidence of impact under the federal Every Student Succeeds Act. Second, researchers at four universities have demonstrated the value of a new Playworks tool aimed at helping schools understand how they can improve the quality of the recess experience. The researchers will now work to distribute the tool, known as The Great Recess Framework, to as many schools as possible and then begin a study of how the quality of recess affects children's performance in the classroom. Both successes were just highlighted in EdWeek, through an interview with Playworks Founder and CEO Jill Vialet and a post on SEL by Playworks President Elizabeth Cushing.
We enjoyed reading "How Adaptive Strategy Is Adapting," an SSIR post by Monitor Institute's Dana O'Donovan, Gabriel Kasper, and Nicole Dubbs. The authors openly acknowledge how their thinking about effective strategy processes have evolved through their study of innovation, data science, and execution management. Their new insights mirror a book that has profoundly influenced Mario's thinking and behavior for decades: The Renewal Factor (1987). The author, Bob Waterman, characterized the management process as similar to sailing. When captain and crew set sail, they 1) know their destination, 2) understand the capacity of their vessel, 3) know the skills of the crew, and 4) have an initial plan to guide their journey. But the minute that sailing vessel leaves the dock, the plan becomes less relevant, as the real challenge is reacting to the wind, current, and weather.
Events/Webinars for Raising Performance