Epic Example of Why Performance Matters
The day after Christmas in 2013, a young boy named Emile in the small West African nation of Guinea came down with a high fever, vomiting, and diarrhea. He died two days later. Within a few weeks, Emile's sister and mother had died as well. By the end of March 2014, scientists at France's Institut Pasteur determined that the cause was the Zaire species of Ebola, the most lethal virus in the Ebola family. Emile's illness sparked the largest Ebola outbreak in history, provoking panic all over the world. "Ebola is 'devouring everything in its path,'" reads a typical headline in The Washington Post.
On the frontlines of the fight against Ebola was the nonprofit Last Mile Health. In 2007, co-founders Dr. Raj Panjabi and Dr. Amisha Raja took the $6,000 they received from friends and family at their wedding and began training, equipping, and paying everyday citizens to become community health workers in Liberia—a country with only 51 doctors left for a population of 4 million. Panjabi had grown up in Liberia but had been forced to flee the country during its bloody civil war.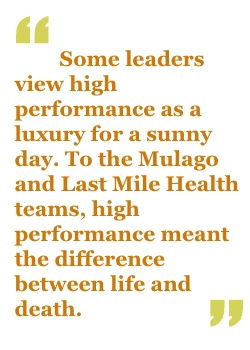 Just prior to the Ebola outbreak, Last Mile Health got a huge boost from the Mulago Foundation. Panjabi was named a Mulago fellow in 2011. During the two-year fellowship, the Mulago team and outside presenters helped him and his colleagues refine the design of Last Mile Health not just for impact but also for scale. "The team at Mulago constantly challenged our assumptions and helped us design and properly frame our work," Panjabi tells us. "This has consistently resulted in improved operations in Liberia. They remain our best 'sparring partner'—asking the hard questions, from a desire to see us succeed, and lead to impact at scale for the communities we serve."
During the Ebola outbreak, Mulago also provided significant capital to Last Mile Health so it could help the Liberian government train more than 1,300 community health workers and other community "mobilizers." In addition to granting the organization nearly $2 million, Mulago helped it raise another $7 million from members of its Big Bang Philanthropy funding consortium. "Since first receiving support from Mulago in 2013, Last Mile Health's budget has increased tenfold, due in large part to Mulago's support and advocacy," Panjabi explains.
President Bill Clinton, who visited Liberia shortly before it was declared Ebola free, credited Panjabi and his team with playing a critical role in helping the government contain the epidemic with remarkable speed and skill. "To spend time with Raj Panjabi is to see up close what happens when someone with uncommon courage and compassion puts himself on the front lines of the world's most complex challenges," Clinton writes in TIME.
Some leaders view investing in high performance as a luxury for a sunny day. To the Mulago and Last Mile Health teams, high performance meant the difference between life and death—for community health workers risking their lives in "the Hot Zone," millions of Liberian families, and ultimately tens of millions of people in cities as far away as Dallas and New York.
To learn more about Mulago's support for Last Mile Health, check out "Blunt Talk, Sharp Thinking," the latest profile in the Leap Ambassadors Community's "Funding Performance" series. Whether you're confronting challenges on a global scale or in your own community, you'll find valuable insights on how to build grantee-funder partnerships that are healthier for both parties and achieve greater impact for those you serve.

Keep the faith (and reason),


Mario and Lowell
---
Updates From Around the Leap Community
In "Backed by a Band of Philanthropists, Nonprofit Makes Dramatic Progress in Reducing Childhood Deaths," Forbes writer and editor Kerry Dolan shines a bright spotlight on another example of a Mulago grantee delivering lifesaving impact in Africa. Dolan reports that the nonprofit Muso has pioneered a proactive model of healthcare delivery in Mali that has produced an "historic transformation in public health." "When Muso began its study in 2008, 1 in 7 children died before they turned 5 years old," Dolan reports. "Seven years later, the death rate plummeted to only 1 in 142 children—the lowest rate in sub-Saharan Africa [and] the same rate as in the U.S." Like Last Mile Health, Muso has benefited from Mulago's direct support ($1 million) as well as significant funding (almost $6 million) from other Big Bang Philanthropy members.
In "The Predicament of Strategic Philanthropy," the prescient and wise advisor Katherine Fulton makes a compelling case that foundations in pursuit of meaningful, measurable results often undermine themselves—not to mention their grantees—by being far too prescriptive and controlling. "At its worst, strategic philanthropy can be a toxic mix of arrogance and ignorance, lacking critical understanding of the context, treating grantees not as partners but as mere instruments of a funder trying to meet a goal," she writes. It's a tough-love critique that ought to make every funder who cares about social impact think deeply about what it can do to build stronger, more effective partnerships with its grantees.
The Leap Ambassadors Community has updated the Performance Imperative Organizational Self-Assessment (PIOSA) to make it much easier for nonprofits to use as a roadmap to identify and act on organizational needs on their journey to high performance. The improved PIOSA now makes it easier to bite off just one or two meaty topics at a time. It also now includes an app that automatically compiles feedback from all respondents into one report. A big thank you to our colleague Ingvild Bjornvold for her great work to make the PIOSA more accessible!
In "Promoting Diversity Goes Hand in Hand With the Push for Effectiveness," Leap Ambassadors Lissette Rodriguez and Fay Twersky push back on recent posts by Kathleen Enright and Vu Le asserting that the push for greater effectiveness hurts nonprofits and those they serve. Rodriguez and Twersky acknowledge that foundations "must do a much better job of putting front and center the voices, preferences, and insights of the people and communities that philanthropy seeks to benefit." But they argue that effectiveness and diversity/inclusion aren't mutually exclusive. One of the stories they offer to illustrate this point is one of our favorites as well: "At one point, a director at the Harlem Children's Zone was upset that data showed a particular program's efforts were having little effect. [Geoff] Canada told the director, "Don't get angry about the data…. We can't fall in love with our programs. We have to fall in love with our missions. And data is a tool to pursue our mission and adjust along the way."
The Laura and John Arnold Foundation is inviting applications for grants of between $1 million and $5 million to help state and local governments adopt programs that have been shown in well-conducted randomized controlled trials to produce great outcomes. "Most social programs are unfortunately found not to produce the hoped-for effects when rigorously evaluated—a pattern that occurs not just in social policy but in other fields where rigorous evaluations are conducted, such as medicine and business," the foundation explains. "Without a strong focus on evidence-based programs, it is hard to see how social policy can successfully address poverty, educational failure, violence, drug abuse, and other critical U.S. problems."
Events/Webinars for Raising Performance
"Good Tech Fest" conference; May 22-24; Detroit, MI; Data Analysts for Social Good