We wish we had a nickel for each time we've had a discussion about helping grantees become high-performance organizations and heard a response like this from a funder: "I get it, but we're not exactly the Gateses or Waltons."
This reaction reflects the conventional wisdom that supporting grantee performance is relevant only for foundations with billions of dollars and hundreds of staff members. We have a different view. We've seen funders with significant but hardly stratospheric resources help their grantees strengthen disciplines at the core of high performance.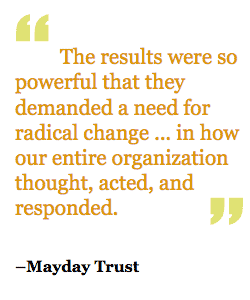 The UK's Blagrave Trust, which we introduced to the Leap community in our July update, is a case in point. It has an endowment of approximately $50 million and only three staff members. And yet Blagrave is punching way above its weight, especially because of its deep commitment to helping nonprofits listen to beneficiaries and act on their insights.
"Walking beside Blagrave Trust as it has deepened its feedback practice has been incredible," says David Bonbright, chief executive of Keystone Accountability. "We are looking on with mouths agape as Blagrave is working with others to change funder attitudes across the UK."
The Blagrave Trust's dynamic director, Jo Wells, has found that when its grantees/partners adopt robust feedback practices, they almost inevitably discover challenges and opportunities that were hiding in plain sight.
An organization that supports disabled young people used Blagrave's resources to commission an independent survey of its young clients and their parents and then followed up with interviews. The organization learned that there were no afterschool opportunities for 16- to 18-year-olds with special needs. They used that information to convince other providers to increase their services and erase this service gap.
Wells introduced the Mayday Trust, a charity based in Oxford which helps young people successfully transition out of homelessness, prison, and foster care, to Bonbright and other leaders in the feedback community. Bonbright then helped Mayday Trust build processes for surveying homeless clients. The feedback wasn't easy to hear, because it challenged everything about the charity's model. "Pat McArdle is a courageous, passionate leader," says Wells. "She thought she and her staff were responsive…. But they heard from their clients, 'The focus on needs makes us feel small. There's no space to talk about the real underlying issues we have.'"
In response, Mayday has completely changed how they work with their clients. As Mayday acknowledged in its Wisdom from the Street report, "The results were so powerful that they demanded a need for radical change. Change not only in how we delivered support, but in how our entire organization thought, acted, and responded to make sure the individual was at the heart of every decision we made and every action we took…. So that's what we did."
Next month, we'll publish and send you a link to our detailed profile of the Blagrave Trust. No, it doesn't have the massive giving capacity of the Gateses and Waltons, but we're deeply impressed with the way it's using its intellectual and financial resources. We think you will be too.

Keep the faith (and reason),


Mario and Lowell
---
Updates From Around the Leap Community
The window has just opened for nominating your human services colleagues for the Veronica Award, which carries a $5,000 cash prize as well as much-deserved recognition for those special frontline staffers who represent the best of the best in empathy, passion, and rigor. Two years ago, we profiled Hamza Latif, a previous Veronica Award–winner in our blog post "Wish You Had This Much Passion?" Latif's story still gives us chills.
Congratulations to Leap Ambassador Brad Phillips, the President and CEO of the Institute for Evidence-Based Change, on his new book, Creating a Data-Informed Culture in Community Colleges. At a time when community colleges are trying to rise to the challenge of increasing traditionally low completion rates at their institutions, Phillips and his coauthor, Jordan Horowitz, produce a series of actionable insights on how to do that. Their book draws from the fields of psychology, neuroscience, and behavioral economics and is a must-read for college presidents across the country.
Mario's home state of Ohio deserves big credit for developing and implementing TOPP, a program that has now been shown to reduce rapid-repeat teen pregnancies by a remarkable 50 percent—a huge deal in the worlds of public health and social services. A few weeks ago, our friends at the Laura and John Arnold Foundation gave high marks to the randomized controlled trial that evaluated TOPP's outcomes. (Typically, we see the foundation, and its Straight Talk on Evidence series, identifying and calling out major flaws in evaluations.) "The TOPP findings of large effects on pregnancies and births are … exceptional," they wrote. They go on to suggest a replication trial to determine whether these positive results will materialize in other settings.
At a time when bipartisanship is rare and evidence is being devalued in Washington, we were surprised and impressed with the federal Commission on Evidence-Based Policymaking's strong recommendations and the fact that all of the commission's members, Democrats and Republicans alike, endorsed them. The commission, which was established last year through the leadership of Sen. Patty Murray (D-WA) and House Speaker Paul Ryan (R-WI), are calling for a National Secure Data Service that would give qualified researchers easier access to the kind of data they need for informing policy decisions and for empowering a chief evaluation officer at every federal agency to assess the effectiveness of federal programs. Speaker Ryan and Senator Murray have already said they will introduce legislation to enact many of the commission's recommendations. "Whether you think we need more government or less government, you should agree that we should at least have better government," Murray has said.
Researchers Ramona Denby-Brison, Efren Gomez, and Richard V. Reeves have produced a valuable report on how best to help youth aging out of the foster system, some of the most vulnerable young people in America. The report assesses four innovative interventions aimed at increasing relationship-building skills: the DREAMR Project, Connections Project, Adult Connections, and Work Wonders. The report recommends consolidating and coordinating services across agencies, so youth can build trust with a smaller, tighter circle of providers; tailoring services to the unique needs of each youth, because cookie-cutter approaches generally don't work; and getting the buy-in of all caregivers, caseworkers, biological parents, and attorneys before trying to engage young people.
Events/Webinars for Raising Performance