Performance for the Poorest
This year marks the 50th anniversary of the San Francisco-based Mulago Foundation, which supports mostly early-stage organizations on the frontlines of poverty alleviation. We suspect the foundation will let the milestone pass with little or no fanfare. While we admire the foundation's desire to avoid patting itself on the back, we believe it deserves widespread recognition. In the past decade, Mulago has done a great job of both preaching and practicing the gospel of high performance.
Rainer (pronounced RYE-nur) Arnhold was a beloved pediatrician who spent months every year treating children in the developing world. Even though he never spoke of it, he was part of a prominent banking family, and he had quietly established Mulago in 1968 as a vehicle for his own philanthropy.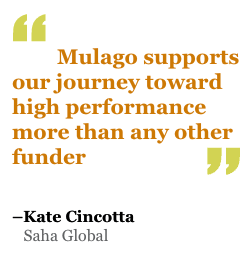 In 1993, Arnhold and a young protégé, emergency physician Dr. Kevin Starr, were on a medical trip to the Bolivian Andes. On the second day of hiking, the 69-year-old Arnhold, perhaps the fittest member of the group, crumpled to the ground. "I ran to him, but he was already pulseless," Starr told us. "It turned out that he'd had a massive stroke. He died instantly."
After Arnhold's untimely death, Starr agreed to cut back his shifts in the Emergency Department so he could help lead Mulago. It took him more than a decade of travel and study to understand what it takes to create lasting impact at scale, and how Mulago could add real value for leaders who wanted to design, measure, and perform at a high level. "When I got myself clear on that, I cast about for someone to help me evolve those ideas into systematic work."
Starr's first hire, in 2007, was a great one. He brought on Laura Hattendorf, who had developed strong problem-solving skills in the private and nonprofit sectors. "We have very complementary skillsets and training, and we work well together to evolve ideas and strategies." Starr said. "Laura knew how to turn ideas into operations…. She hadn't spent a lot of time in settings of poverty, but I had."
Today, Starr, Hattendorf and their small but mighty team are delighting grantees with that approach, which Starr shares with passion and precision on Mulago's website and Stanford Social Innovation Review columns. Here are Mulago's key tenets:
We don't invest in organizations that don't measure impact. They're flying blind and we would be too.
Impact at scale doesn't come from projects; it comes from the work of organizations.
Unrestricted funding drives innovation and growth…. If we don't think an organization knows how to use the money better than we do, we don't give them any.
We don't abandon a good thing. If we continue to see real impact and clear progress toward scale, we stay in the game.
The last thing we want is to waste the time and energy of those who are trying to save the world. We ask for annual milestones and their impact methodology; beyond that, we rely on documents they should already have on hand.
We're … looking for organizations with great solutions to poverty and the ability to take impact to scale. When we find them, we share them [with like-minded funders]. We want to ensure that those who are best at creating change get what they need to do it.
Next month, the Leap Ambassadors Community will share Mulago's story as part of its "Funding Performance" series. You'll find details on all of the tenets above as well as insights from Mulago's grantees on what it's like to work with a foundation "that supports our journey toward high performance more than any other funder," in the words of Kate Cincotta, a former MIT aerospace engineer whose organization is helping to provide clean water in rural Ghana.
Arnhold once lamented that he sometimes felt that he'd "plowed the sea"—that he hadn't created lasting change. He would be proud of where his protégé has taken the foundation over the past 25 years. Thanks to a new model that gives grantees what they need to perform at the highest levels, Mulago is now plowing fertile fields in Africa and Asia.

Keep the faith (and reason),


Mario and Lowell
---
Updates From Around the Leap Community
Matt Forti, a Leap Ambassador and the managing director of Mulago grantee One Acre Fund, offers good advice for nonprofits trying to build boards that can add maximum value for the organization. In his SSIR article "Challenging Conventional Wisdom on Nonprofit Boards," Forti pushes for nurturing small, cohesive boards rather than "trying to attracting as many evangelists to the cause as possible through a large governing board"; creating "term reviews" rather than fixed term limits; and lightening up on fundraising requirements that wind up precluding "the most valuable strategists and governists."
If your organization, like One Acre Fund, is performing at a high level, please consider applying for the $100,000 Drucker Prize before the April 30 deadline. We're aware that prizes have come under sharp criticism (including from Mulago's Kevin Starr), but we're big fans of this particular prize. Because it makes a high-quality learning platform available to all applicants, we think there's real value in going through the application process even if you don't win. In the words of one applicant, "I truly loved the learning experience. Now that I've told others [in my organization] about it, we are all fighting over who gets to do it next year."
Leap Ambassador Julie Russell, the senior vice president for planning and evaluation at the United Way of Greater St. Louis, just shared the good news that her board approved the organization's new investment process, which represents a big leap forward for the nearly 100-year-old organization. The organization's previous funding formulas were based on legacy—favoring organizations that had been United Way grantees for many years. The new formula will emphasize applicants' outcomes, performance, and data on community need. "This is a huge paradigm shift for our community," Julie told us. "I'm thankful for the work of the Leap Ambassadors Community to help inform our path forward." The plan is now being rolled out to the community. The new funding formulas will go into effect in 2020.
We're quite pleasantly surprised by a string of recent wins for federal evidence-based policy. The budget act signed into law on February 9 includes a new $100 million fund to create public-private partnerships based on the pay-for-success model; a new approach to foster care that allows states to use federal funds for evidence-based preventive services; reauthorization of major home-visitation program that emphasizes evidence; and money for "tiered-evidence" innovation funds that improve K-12 education, prevent teen pregnancy, and reduce global poverty. Results for America and the Social Innovation Research Center are great resources for detailed information about these initiatives.
Events/Webinars for Raising Performance
"Energize Your Grantmaking" live stream series; starts March 6; Putnam Consulting Group (use code "LEAP20" for 20 percent discount)
"Good Tech Fest" conference; May 22-24; Detroit, MI; Data Analysts for Social Good