The Opposite of Clickbait
We and our Morino Institute colleagues just received an uplifting gift at the end of what has been a very difficult year for us and the country as whole: Leap of Reason just passed the 100,000-copy threshold, which is about 95,000 more than we imagined when we released the book. Granted, Leap of Reason is free for anyone who wants it, but hitting this milestone is still a big honking deal in the publishing world. We hope all of those who contributed to its publication, in ways big and small, feel great about it!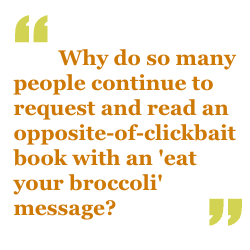 We've worked hard to figure out why so many people continue to request and read an opposite-of-clickbait book with an "eat your broccoli" message. We figure it must have something to do with the fact that the Leap Ambassadors Community—a learning network that has coalesced around the core themes of Leap of Reason—mention the book when they're giving speeches and communicate with their stakeholders. It must also be good evidence that a growing number of leaders—including you, dear Leap Update reader—are hungry for insights on how they can strengthen their organizations and produce even better results at a time of wicked divides and growing needs.
Over the past year, members of the Leap Ambassadors Community have spent a lot of time studying these hungry leaders—to gain insights into their successes (and failures) and to pump up some healthy peer pressure. They're learning a lot about what high performance looks like in practice!
In their recent profiles of grantseekers, the Leap Ambassadors Community highlighted Matt Huckabay, the Buck Stops Here leader of the Center for Violence-Free Relationships, who dramatically improved his organization's performance through brave introspection and program reinvention. They shared insights from Cheryl Hollis about WINGS for kids' disciplined approach to hiring, training, and coaching its young staff. They featured William Attaway, whose small church in Northern Virginia used the Performance Imperative Organizational Self-Assessment (PIOSA) to help strengthen its elder team; Terri Sorensen, who used the PIOSA to help Friends of the Children think more holistically about performance; and our dear friend Lou Salza, who used the PIOSA to help Lawrence School resist the "universal gravitational pull" to rest on its laurels.
The Leap Ambassadors Community also profiled five funders that are effectively giving master classes in how to support grantees to rise from good to great. In "How Donors Can Do More Good," they saluted Nancy Roob and Blue Meridian Partners for making huge, long-term, unrestricted investments that give leaders the flexibility to focus on all seven pillars of performance. In "A Better-Angels Funder Practices What It Preaches," the community gave a shout out to Jennifer Hoos Rothberg and Einhorn Family Charitable Trust for cultivating remarkably strong grantee relationships built on respect and a mutual desire for learning and improvement. In "Invested in Empathetic Challenge," they introduced Andy Ratcliffe and his brilliant team at Impetus-PEF, who have developed "the best-worked-out and -implemented approach to social investing, bar none," in the words of performance-whisperer David Hunter. In "Brain + Heart + Ears," the community gave kudos to Jo Wells and the Blagrave Trust for their deep commitment to listening to grantees and beneficiaries. In the hot-off-the-presses "We've Walked in Your Shoes," they visited with Fred Ali and Belen Vargas, who have patiently turned a once-staid foundation into a powerful force for equity and effective philanthropic practice.
None of these leaders are declaring victory. They all recognize they have a long way to go on their asymptotic journeys toward high performance. But together, they're showing what's possible. And that's a deeply meaningful gift for all of us who resolve to learn, improve, and grow in 2018!

Keep the faith (and reason),


Mario and Lowell
---
Updates From Around the Leap Community
The New York Times's David Bornstein has been an even more prolific chronicler of high-performance organizations than the Leap Ambassadors Community. In his latest Fixes blog post, he revisits the Crisis Text Line, a 24/7/365 service that's particularly worth highlighting during the often-stressful holiday season. One particularly noteworthy element of Crisis Text Line's approach is sharing all of its data (anonymous, of course) with researchers to help fuel learning and improvement. "Currently, 15 teams have received access," Bornstein reports. "Researchers at Stanford University are using the data to determine why some crisis counselors are more effective than others at making people feel better."
As longtime fans of Grant Oliphant, president of the Heinz Endowments, we're compelled to share his urgent, powerful call to action from the recent Communications Network conference. Oliphant, a brilliant communicator who once served as press secretary to Republican Senator John Heinz, pleads with foundation leaders to summon the moral courage to speak out on the issues we hold dear, even if that invites criticism of being "too political." "The whole notion of a civil society is in play at the moment," Oliphant says. "I just ask you … what of your work can you accomplish when [civil society values] get taken away?"
The John and Laura Arnold Foundation's Straight Talk on Evidence initiative, the wisely skeptical "Ernies" of the evaluation world, have just offered a great example of "How 'official' evidence reviews can make ineffective programs appear effective." They look at a program called Parents as Teachers, which earned high marks from the U.S. Department of Health and Human Services (HHS) despite disappointing results in a randomized controlled trial. HHS's rose-colored review of Parents as Teachers is problematic because "there are program models with credible evidence of important effects on participants' lives, such as the Nurse-Family Partnershipand Child First…. If HHS labels programs with weak or disappointing findings as evidence based … state and local officials charged with implementing home visiting programs [will have a hard time distinguishing between] program models with true evidence of effectiveness from all the others."
Events/Webinars for Raising Performance