Why Aren't We Talking About ML?
To kick off the new year, we want to spark a conversation that clearly demands our attention this year: how our sector can make smart use of artificial intelligence (AI) and machine learning (ML), the latter a form of AI that can learn on its own, without human intervention.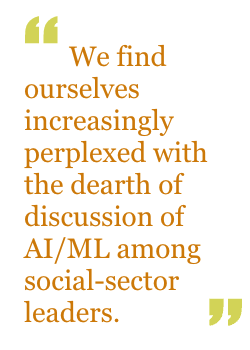 We find ourselves increasingly perplexed by the dearth of discussion of AI/ML among social-sector leaders. Perhaps this gap means that social-sector leaders think AI is relevant for Amazon but not for them, maybe they fear the unknown, or they're simply falling prey to Luddism.
Here's an example that really got under Mario's skin. Last August, MIT Technology Review reported that researchers had developed what were viewed as effective ML tools to improve the pace and cost of lead abatement in Flint, Michigan: "Before the software was implemented, only 20 percent of the pipes dug up needed replacement. By contrast, the list of lead pipe locations generated by the software has a 97 percent success rate. This huge jump in accuracy is saving the city enough time and money to remediate an additional 2,000 homes." And yet, city officials and their engineer contractor abandoned the new tools. As a result, "Thousands of people in Flint still have homes with lead pipes, when the previous program would likely have already found and replaced them," according to The Atlantic Monthly.
The moral of the story is that it makes no sense for political and social-sector leaders to turn their backs on AI/ML. Thanks to major advances in the past five years, it's now becoming ubiquitous and is ushering in new opportunities to solve social, health, and environmental challenges. Simultaneously, AI/ML is opening a Pandora's box of potential unintended consequences. (We've recently read four outstanding books that raise all the right alarm bells: Superintelligence, Army of None, Life 3.0: Life in the Age of Artificial Intelligence, and 21 Lessons for the 21st Century.) There's no putting this genie back in the bottle.
Part of the challenge is creating a much more positive narrative, stripped of hype and jargon, that illustrates the different ways lives, organizations, and places will benefit from AI/ML. Here are just a few of the things we've read recently that make us eager to learn more this year:
We read about Google's use of AI and ML to create smarter models that predict when and where floods will occur, and then share that information quickly with the public.
We're learning about the ways that IBM Watson Education is using AI to help teachers individualize lessons to the specific needs of each student.
As a member of the Cleveland Clinic's board, Mario is aware of the Clinic's partnership with IBM Watson to help physicians improve patient outcomes, by helping them draw deep, comparative insights from electronic medical records.
Our colleague Pete York, a data scientist and social worker, has been educating us about the many ML algorithms he's been creating for nonprofits and public agencies— from helping the state of Florida use ML to more accurately assess risk of recidivism without perpetuating racial bias to helping a residential treatment center determine the best treatment for each child to prevent re-hospitalization, to aiding nonprofits in improving their financial health. (A prototype of the financial-health model can accurately predict the number of months of liquid reserves a nonprofit will have in three years and provide business-model recommendations using a cohort of similar organizations.)
The social sector can and should also be deeply involved in helping society head off the negative consequences. Could the sector help define ethical and moral guidelines for AI/ML? Could it ensure equity and fairness in their application? And, maybe most important, can it help workers prepare for and cope with the inevitable economic disruption AI/ML will bring? The New York Times article "How Do You Govern Machines That Can Learn? Policymakers Are Trying to Figure That Out," reflects these concerns and urges policymakers to act.
We'll be exploring these and other possibilities all year with colleagues in the Leap Ambassadors Community. We'll be sure to report back as we learn more. If you're interested in joining us in this journey, you might want to start by checking out Google AI's landing page "Using AI for social good." It provides a good foundation even for those who have no background in technology.

Keep the faith (and reason),


Mario and Lowell
---
Mario Morino is chairman of the Morino Institute, co-founder and founding chair of Venture Philanthropy Partners, and author of the lead essay in Leap of Reason. Lowell Weiss is president of Cascade Philanthropy Advisors, co-editor of Leap of Reason, and advisor to the Leap of Reason initiative.

---
Updates From Around the Leap Community
When is ordering at a pizza shop like funding a nonprofit? If you haven't seen "Everyone deserves a fair slice," please do. It's a wickedly funny video produced by the Human Services Council of New York. Every funder will cringe. Every nonprofit will clap.
U.S. givers are often called the most generous in the world. And yet super rich families donated only about one percent of their assets to charity in the most recent year for which we have data—far less than typical investment returns on these assets. What can be done to unlock more philanthropy? With support from the Gates Foundation, the Bridgespan Group has just released a report with good answers. Four Pathways to Greater Giving outlines the reasons the rich don't give more and details strategies to overcome these barriers. We'll highlight one of those strategies here: joining forces with other philanthropists in aggregated funds. "Platforms like Blue Meridian Partners and The END Fund, which enable funders to marshal resources and invest collectively to address structural barriers to equity, are among the most prominent models for collaborative, aggregated funding. We estimate that an array of philanthropic options such as these could spur more than $5 billion in annual giving."
Nonprofit transparency is good for fundraising, according to peer-reviewed research in The Journal of Accounting, Auditing & Finance. Nonprofits that voluntarily share more information and receive a GuideStar Seal of Transparency bring in 53 percent more in contributions one year later. The study also revealed that nonprofits that are more transparent are stronger performers across a range of governance, financial, and operational dimensions.
Speaking of transparency, kudos to Antony Bugg-Levine for sharing his reflections on the questions he neglected to ask of himself and his colleagues when he was a program officer at the Rockefeller Foundation. All of the questions he cites are applicable to any funder interested in helping its grantees become high performers: "Why don't we just give general operating support?, Why don't we make multiyear grants?, Why do we award large grants to large organizations but only small grants to small ones?, Why do we favor nonprofits with low overhead?, Why don't we allow grantees to keep their savings?, What are we doing to increase the net size of our grants?, and Why do foundations ask grantees to provide formal written reports and in a format unique to each of us?" Lowell is sharing these good questions with all of the funders he supports.
We were delighted to learn that the American Alliance of Museums and three major foundations have launched a serious effort to increase the diversity of museum leadership. In the art world, the diversity gap is big. In a 2015 study, researchers found that only 16 percent of leadership positions were held by people of color. The new effort aims to dramatically increase that percentage "by introducing diversity standards across the field, leadership development for 50 museums in five cities (which have not yet been named), an online resource center and a program that matches individuals with museum boards," according to The New York Times. If this effort pans out, we'd love to see it spread to many other parts of our sector.
---
Events/Webinars for Raising Performance
Feb 5 — Online
"Foundation Governance: Trends, Practices, and Challenges in Grantmaking Governance" webinar; BoardSource
Feb 19-20 — Stanford, CA
"Data on Purpose" conference; SSIR
Mar 14 — Online
"General Operating Support: Making the Case to Grant Makers" webinar; Chronicle of Philanthropy
May 7-9 — Minneapolis-St. Paul
"Stronger Philanthropy" conference; Center for Effective Philanthropy
June 25-28 — Los Angeles
"Skid Row School for Large-Scale Social Change"; Billions Institute